THIS IS WHAT WE DO
CORPORATE SERVICES
---

---

When an issue is of critical important to you, we pair senior-level engineering consultants with a full support team to solve problems and achieve superior results. All types of automated industrial processes can be stratified in accordance to data flowing through the enterprise different operational layers. These layers range from collecting information on each single instrument (Sensor-Actuator Level 0) up to the programming and production control system (ERP-Level 4). This model is defined on ANSI/ISA-95 standard, based on the five level Purdue Reference Model (PRM). The main model function will be to clarify information flow and how to use it, and is typically expressed as:

Business Systems
Level 4 - Plant Level (ERP and MRP)
Level 3 - Operation Unit Level (MES)
Level 2 - Machine/Process Automation Level (HMI-SCADA)
Level 1 - Controller Level (Control)
Level 0 - Sensor/Actuator Level (Instrumentation)

---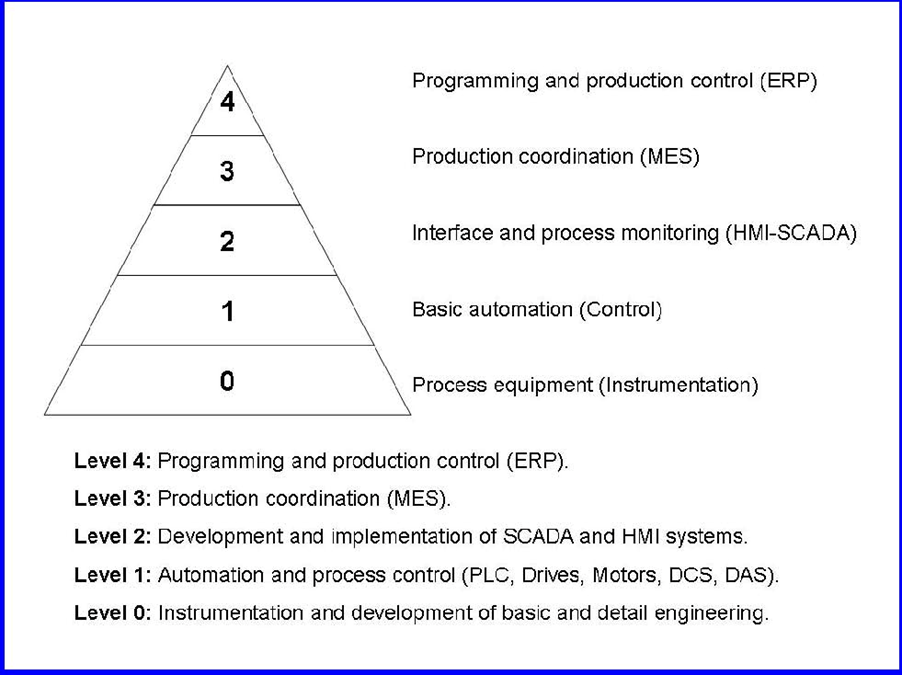 AITECSYS engineering team 's main experience is located in Level 1 and Level 2 layers, but we can manage Level 3 developments though associate companies.



---
Do not worry anymore about deploying your personnel in Latin America countries. Our professionals are ready to take care of your technical needs abroad. We will fulfill all local tax duties, employment and insurance requirements for your projects abroad. Take your technical support team closer to your clients¡¡¡

Getting control and automation software developments rapidly and economically has never been so easy. We provide quality services within your time zone and in your language. An experienced team will grow your engineering´s office giving you the possibility to attend more developments simultaneously.

During the 1970's, some US Corporations transferred partial operation functions to India and other countries. This allowed them to reduce costs, as they delegated noncritical business activities to abroad companies that specialized in off-shore services. In 1994, North America signed a free trade agreement called NAFTA between Canada, The United States, and Mexico, which promoted the business interchange of values and services.

The Nearshore concept derives from the afore-mentioned offshore idea, and adds the notion that abroad services should be performed in a neighboring country. Some advantages to Nearshore with AITECSYS are

- AITECSYS is a USA corporation, so you will be protected by U.S. law enforcements.
- Nearshore offices are located in Northamerica´s region, full U.S. business day overlap.
- Nearshore corporations fulfill their local regulations and tax payment duties locally.
- Nearshore engineering team has a great experience in different automation industrial process.
- Geographical proximity, Mexico is ranked first in the number of daily flights to and from the United States.
- Mexico's currency (Peso) is closely aligned with the U.S. Dollar, providing cost consistency.
- Hourly contracts.

Commitments:
- Confidentiality
- Competitive prices
- Non-competence agreements
- Business in USA since 2009.

Nearshore Services:
- Basic Electric and Control Engineering design, including component selection and AUTOCAD drawing drafting.
- Human Machine Interface design and upgrades, we have a library of industrial equipment and controls to display in your new HMI or SCADA.
- PLC software/hardware conversions and upgrades from older versions.
- Automation technical support closer to you Latin American users and customers.
- Consultant services of how to make business in Mexico.
- Automation Personnel Outsourcing in Latin America.


AUTOMATION SERVICES


If the Punch List requirements are overloading the day by day operations of your personnel, then we can help you taking action over these kind of task:

- PLC Troubleshooting: New sequences and function programming, troubleshooting of data lost in your control network, sequence patch programming, logic modification and changes monitoring during operation time.

- PLC Technical Support: Program back up services, CPU firmware upgrades, IO Module replacements and reconfiguration.

- HMI Updates: Design, program and update of HMI apps according to your internal user demands.

- Automation Training: Local training is good, but receiving it on your training room is great. Take customized training on you schedule and for your systems. The best way to learn, is simulating real troubleshooting situations.

- Drawings Updates: Make sure your technical support has the latest electrical drawings on-site and fast your tech support during electrical breakdowns. (nearshored)




If you are planning to implement a new control system or execute an upgrade on your own resources, we can help you to design and program it from scratch until the project is finished. We will study the project objectives, production requirements and evaluate current automation equipment to implement satisfactorily.

- Control Architecture Design: Collecting field information, Functional Specification writing, Control Layout Equipment designing, Control Component selection, Control Drawing drafting, etc.

- PLC Programming: PLC program structure design and new sequence programming.
- HMI Programming: HMI program screens layouts, variable connections and testing.
- System Commissioning: Installation supervision, device commissioning and sequence testing.
- On-Site Training: Train your maintenance and operations personnel just after start up curve has finished.


AUTOMATION
STAFFING SERVICES
---
Let AITECSYS provide your business with temporary automation staffing engineers to get through busy seasons, to support major projects,new clients, and business growth. WE have competitive monthly rates, then you can focus on what really matters: your business.